grape

News
Coronation grapes reign over French clafouti
September 15, 2015
Coronation grapes reign over French clafouti
The seedless blue Coronation grape has a tart skin and a burst of juicy sweetness that makes it ideal for any occasion. Clafouti is a traditional French dish made with cherries, but Coronation grapes are a perfect substitute.
By: Cynthia David Special to the Star, Published on Tue Sep 15 2015
Break out the tea, scones and a dish of Sovereign Coronation jam to celebrate Queen Elizabeth's new role as Britain's longest-serving monarch.
A plant breeder from B.C. with a soft spot for the royal family developed the seedless blue grape in the 1970s. It has reigned over Niagara's table-grape industry since 2008, overruling its seedy cousin the Concord.
The regal grape's official name was shortened to Coronation to make it easier for consumers to remember, says David Lambert, fourth-generation grape grower and chair of the Ontario Fresh Grape Board.
Their compact bunches are certainly eye-catching, cascading from two-litre baskets and fairly bursting from plastic clamshells at retail stores and farmers markets right now.
Their tart skin and burst of juicy sweetness make Coronations a great ready-to-eat snack and lunch-box treat for kids big and small, says Lambert, who grows 100 hectares of table and wine grapes on his family's farm in Virgil, Ont., near Niagara-on-the-Lake.
They're a world apart from super-sweet California grapes, which now come in zany flavours such as cotton candy.
To ensure Ontario consumers come back for more, local growers now leave their blue grapes hanging on the vine until they reach the ideal sugar-to-acid ratio before harvesting.
Most Coronations are eaten fresh from the bunch, but Lambert still recalls his mom making grape jam with Concords.
"It was messy," he says. "Everything in the house was stained for weeks."
As the Coronation season is fast coming to an end, pick up a basket and try my version of a classic French clafouti. Though two litres of grapes may seem daunting, you'll be surprised how quickly they disappear. Or freeze the royal grapes for a taste of summer year-round.
Long may they reign!
Buy & Store
Ontario's Coronation grape season runs four to six weeks, from mid-August to late September.
Look for plump, smooth, deep-blue grapes firmly attached to a flexible light green or straw-yellow stem.
Refrigerate grapes in their container, loosely covered, seven to 10 days. If you leave them out in a sunny kitchen you may end up with wine or vinegar.
Prep
Gently wash Coronation grapes in a colander just before serving.
Freeze
Wash, dry and de-stem grapes.
Pack in airtight containers and freeze. No sugar needed.
Use frozen grapes in recipes that call for fresh, as they keep their shape when thawed.
To use frozen grapes for preserves, thaw in refrigerator just until crushable.
Serve
Eat Coronations fresh out-of-hand or from the freezer
Make a luscious jam or jelly
Add to a crisp or crumble with Ontario pears, nectarines and raspberries
Delicious in sauces, juice and smoothies
Layer with yogurt or other soft cheese, lemon zest and honey
Garnish a cheese and fruit platter with small bunches of Coronations
Add to wholesome grain salads
Make grape-cicles with the recipe from ontariotenderfruit.ca
Spread grape jam on a roast beef and blue cheese sandwich
Spread it: Place 3 tbsp (45 mL) cornstarch in a measuring cup and add water to make 1/3 cup (75 mL). In a medium pot, stir 2 cups (500 mL) de-stemmed Coronation grapes, 2/3 cup (150 mL) granulated sugar, 2 tbsp (30 mL) water and 1 1/2 tsp (7 mL) lemon juice. Place over medium heat and bring to a boil. Cook 5 to 10 minutes, stirring occasionally, to break up grapes and melt sugar. Add cornstarch mixture and cook 5 minutes, stirring constantly, until spread is thick and clear. Transfer to a bowl or jar; cool. Refrigerate.
Coronation Grape Clafouti
Clafouti is a traditional French flan made with cherries, but it suits juicy Ontario Coronation grapes perfectly. This one's not too sweet to lets the sweet-tart taste shine through. I like serving leftovers for breakfast.
1 Tbsp(15 mL) butter
2 cups (500 mL) Coronation grapes, de-stemmed
3 large eggs
½ cup (125 mL) granulated sugar
1 tsp (5 mL) vanilla extract
½ cup (125 mL) all-purpose flour
1 tsp (5 mL) grated lemon zest
Pinch of salt
11/4 cups (310 mL) whole milk or 10% cream
Garnish: icing sugar
Preheat oven to 350 F (180 C). Wash and drain grapes, then transfer to buttered 9-inch (22 cm) pie plate.
In a large bowl, beat eggs, sugar and vanilla 1 to 2 minutes with an electric beater until light and frothy. Add flour, lemon zest and salt, mixing just until smooth. Do not overbeat or flan will be tough. Stir in milk and pour batter over fruit.
Place a baking sheet in oven to catch any drips. Carefully place clafouti on top. Bake until puffed, golden and just set, 50 minutes to 1 hour. Let cool 20 minutes.
Sprinkle with icing sugar and serve warm or at room temperature.
Makes 6 to 8 servings.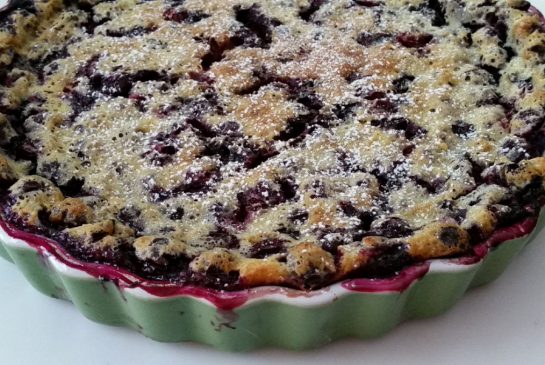 Other News Stories
SEPTEMBER 14, 2023
Provincial Government Grants Funding to Boost Ontario's Fresh Table Grape Industry through Instore Sampling and Sustainability Efforts. [read more]
—
SEPTEMBER 28, 2022
Celebrating a Successful Ontario Table Grape Season [read more]
—
SEPTEMBER 15, 2022
Support from the Greenbelt Foundation helps Ontario Tender Fruit Growers strengthen the economic viability of the Niagara product [read more]
—
SEPTEMBER 23, 2021
85,000 New Trees and Vines Will Strengthen the Resilience of Niagara's Tender Fruit Sector [read more]
—
APRIL 29, 2021
Ontario invests in local grapes [read more]
—
AUGUST 17, 2020
Ontario eyes variety development for future grapes [read more]
—
SEPTEMBER 15, 2015
Coronation grapes reign over French clafouti [read more]
—
MAY 15, 2015
The bloom is back and a little early [read more]
—
APRIL 01, 2015
Fruit Tracker | Fruit and Vegetable Magazine Article [read more]
—
JUNE 26, 2014
Local Food Week Was a Great Succes [read more]
—