grape

News
Celebrating a Successful Ontario Table Grape Season
September 28, 2022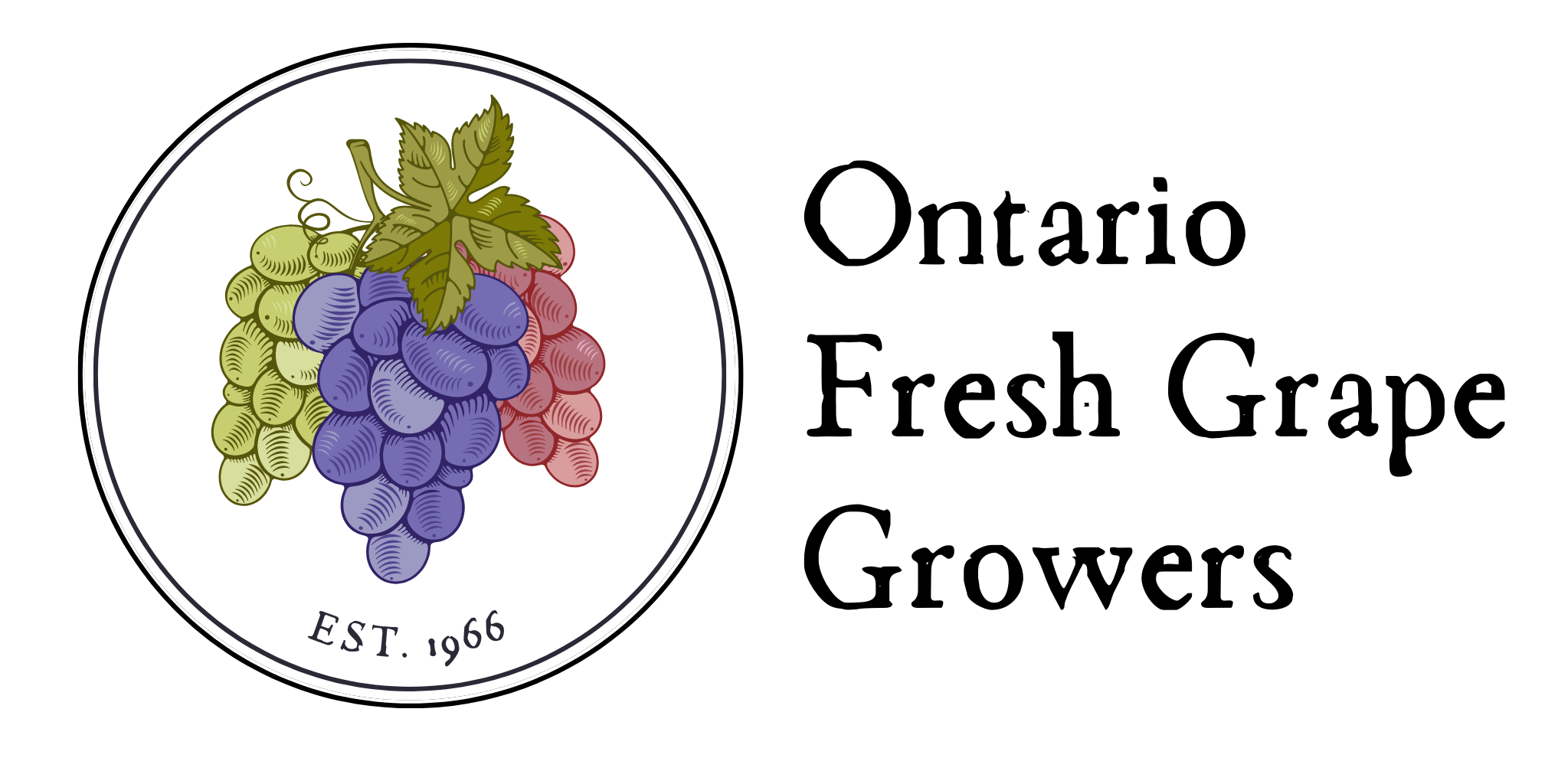 News Release
Celebrating a Successful Ontario Table Grape Season
For immediate release
Niagara, ON, September 28, 2022 – The Ontario Fresh Grape Growers (OFGG) are pleased to announce a successful table grape season. Harvest is complete and sales were brisk with fantastic tasting fruit.
With support from the Ontario government, promotional activities have been executed including in-store sampling events at select retailers and locations. Shoppers were offered a taste of fresh and flavourful blue grape varieties Sovereign Coronation and Jupiter™ and provided feedback on new sustainable packaging trials.
Public engagement and feedback were key to the success of the project. Market research surveys, polls, and an amplified social media campaign were developed and shared on Facebook and Instagram encouraging discussion from a diverse group of Ontario consumers. Furthermore, shopper feedback on fresh grape buying habits and new sustainable packaging concepts was collected post-instore sampling. These valuable insights will greatly inform marketing decisions for Ontario table grapes going forward.
Retailer participation and new variety development are equally vital to the growth of the industry. Under this project, OFGG and Vineland Research and Innovation Centre hosted a vineyard tour for retailers and industry stakeholders to network and share opinions on potential new varieties for future commercialization.
"The government of Ontario is proud of its continued support to the province's table grape industry," said Lisa Thompson, Minister of Agriculture, Food and Rural Affairs. "Grape growers are passionate about their industry and play an integral part in our provincial agri-food sector. By investing in marketing initiatives that help promote locally-grown fresh and delicious grapes, we're increasing consumer awareness of grapes grown right here in Ontario, growing our economy, promoting local food, while supporting agricultural jobs in our communities."
"This support from the Ontario government has given us a great opportunity to spread the word about Ontario-grown table grapes," says Sarah Marshall, General Manager of OFGG. "We are very excited about our promotional initiatives, and we anticipate great results from the increased exposure."
Ontario table grapes are a convenient and healthy choice for eating as a snack out-of-hand and work well in both sweet and savoury dishes. They can be frozen to prolong shelf-life and hold their shape and vibrant colour when cooked or baked. Point of sale materials provided through the promotional activities will inspire a plethora of recipe ideas and will encourage consumers to include Ontario table grapes as part of their daily diet.
David Hipple, Chair of the Ontario Fresh Grape Board, thanks consumers for seeking out Ontario grapes this season at their grocery store. "Our local grapes have a fresh and unique flavour profile versus imported table grapes. They are great for everyday consumption and pair incredibly well with wine, cheese and charcuterie."
- 30 –
The Ontario Fresh Grape Growers is a not-for-profit organization representing over 80 local table grape growers. OFGG was established in 1966 and is governed by grower members. Ontario's tender fruit and fresh grape crops have an annual farm gate value of approximately $60 million. Visit www.ontariotenderfruit.ca
For more information:
Sarah Marshall, General Manager – 905-688-0990 or sarah@ontariotenderfruit.ca
Other News Stories
SEPTEMBER 14, 2023
Provincial Government Grants Funding to Boost Ontario's Fresh Table Grape Industry through Instore Sampling and Sustainability Efforts. [read more]
—
SEPTEMBER 28, 2022
Celebrating a Successful Ontario Table Grape Season [read more]
—
SEPTEMBER 15, 2022
Support from the Greenbelt Foundation helps Ontario Tender Fruit Growers strengthen the economic viability of the Niagara product [read more]
—
SEPTEMBER 23, 2021
85,000 New Trees and Vines Will Strengthen the Resilience of Niagara's Tender Fruit Sector [read more]
—
APRIL 29, 2021
Ontario invests in local grapes [read more]
—
AUGUST 17, 2020
Ontario eyes variety development for future grapes [read more]
—
SEPTEMBER 15, 2015
Coronation grapes reign over French clafouti [read more]
—
MAY 15, 2015
The bloom is back and a little early [read more]
—
APRIL 01, 2015
Fruit Tracker | Fruit and Vegetable Magazine Article [read more]
—
JUNE 26, 2014
Local Food Week Was a Great Succes [read more]
—